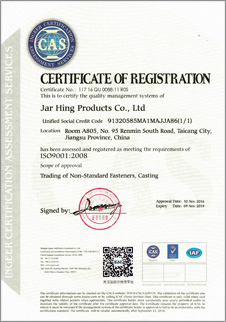 Suzhou Youyin Machinery Co., Ltd. is a professional manufacturer of industrial cantilever systems, connectors, connecting pipes and aluminium chassis.

Customer satisfaction is our primary task. Our quality policy, management system and the participation of all employees are prerequisites for maintaining our high standards and ensuring timely delivery of high quality, high value-added products to our customers.

quality policy:Integrity, Law-abiding and Value Creation

Quality objective: Customer satisfaction.

We always put the customer's needs first. Each of our employees will always be customer-oriented, with continuous improvement of the quality assurance system and zero-defect management methods as the core of efforts. Quality Control: All procedures comply with the management requirements of ISO9000 and TS16949. Establish a sound production process and quality management system, quality as the cornerstone of enterprise survival, talent as the source of power for enterprise development; in line with the principle of " continuous improvement, Excellence & rdquo; working principle, wholeheartedly serve customers.

Quality commitment:
1. Do not purchase bad products, do not produce bad products, do not flow out of bad products.
2. Insist on testing, find problems in advance and solve them in time.
3. Honesty wins the market and creates value for customers to forge the future.